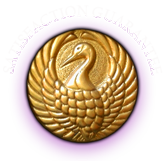 We stand behind the works we sell at 2000 Cranes
At 2000 Cranes, we sell only the highest quality, exhibition-grade pieces the artists we represent directly have to offer. We do not deal in secondhand or B-grade pottery acquired through auctions or pottery fairs. As a result, the value and provenance of the works we sell is unquestioned.

With our professional photography, in-depth artist profiles, customer service, and timely delivery, we ensure your trust & satisfaction in every acquisition you make through us.

If, however, you are unsatisfied with your order in any way, or feel that it was misrepresented, we will issue you a full refund.
Your complete satisfaction is our goal.