Ginshō Tenmoku Fresh Water Jar by Kamada Kōji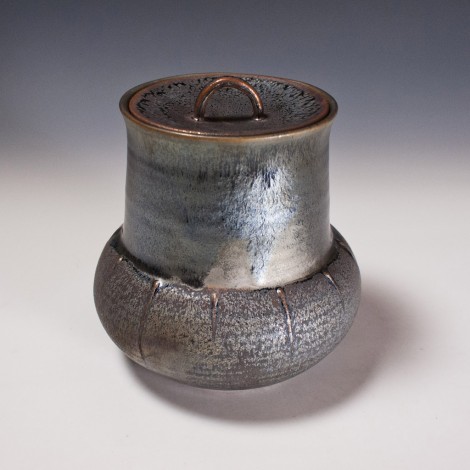 Description
Among the different members in his glazing repertoire, ginshō tenmoku is one of Kamada Kōji's most versatile. Where other tenmoku glazes form best when there is a constant gravitational pull toward the center, like on the inside of a tea bowl, the metallic quality of ginshō tenmoku forms at any gradient or irregular angle, and this has afforded the artist great latitude to experiment with vessel shapes of all types.

Kamada Kōji's masterful forming and glazing skill is proudly presented in this resplendent mizusashi fresh water jar. Heat variations inside the kiln create undulations of brushed metal, silvery blue and deep purple, while golden highlights around neck and low-relief lines (tsuisen) add a touch of opulence.

Mizusashi play a central role in tea ceremony and are carefully chosen to match the aesthetic scheme the host selects for the particular occasion. They hold the pure, cold water which is boiled and used to prepare the sacred tea.

Kamada Kōji's tenmoku works are held in private collections around the world and, in 2005, were acquired by New York's Metropolitan Museum of Art for display in their Asian Art collection. In 2018, he held his 50th Memorial Exhibition in Kyoto & Tokyo.



A wooden presentation box will be custom made to order and signed by the artist. Delivery time for this item is 2 weeks.

View Kamada Kōji's Profile | View all works by this artist.
Shipping Fees

| | in | cm | lbs | kg |
| --- | --- | --- | --- | --- |
| diameter | 7.1" | 18.0 | | |
| height | 7.7" | 19.5 | | |
| weight | | | 6.61 | 3.0 |