Yōhen Haikaburi Vase by Wada Tōzan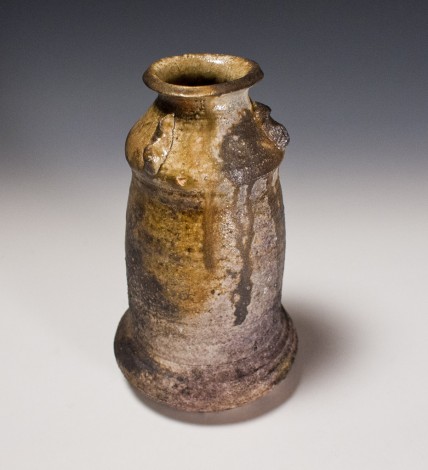 Description
This elegant vase by Wada Tōzan is wood fired at Ōizumi-gama in the haikaburi (lit. "ash covered") technique. It was placed around the ash pit of the kiln and, at a temperature of 1,250°C (2,300°F), blasted with successive waves of red pine and cedar embers, each one adding another layer of texture and color. The fired side of the vase is a warm collage of ocher speckles and embers now frozen in time. The rear, in contrast, retains the soft quality of the ash slip.

What arose from the ashes is a piece imbued with both the raw, unrefined dynamics of the kiln and the quiet austerity of the Zen aesthetic. It can accommodate simple arrangements of long-stemmed flowers - or nothing at all.



A wooden presentation box will be custom made to order and signed by the artist. Delivery time for this item is 2 weeks.

View Wada Tōzan's Profile | View all works by this artist.
Shipping Fees

| | in | cm | lbs | kg |
| --- | --- | --- | --- | --- |
| diameter | 5.5" | 14.0 | | |
| height | 9.4" | 24.0 | | |
| weight | | | 4.41 | 2.0 |