Shino Green Tea Cup Set by Suzuki Tomio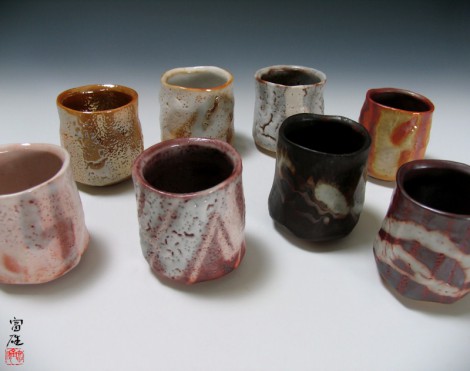 Description
Greatly esteemed by tea ceremony practitioners for centuries, shino-yaki was first fired during the Momoyama era (1568-1603) at kilns in Minō - central Japan. Glazed with a simple mixture of mostly feldspar and water, it is renowned for its textured surface of pinholes and crackles.

Hailing from Kyoto's Yawata District, Suzuki Tomio has reinvigorated the world of shino with his provocative clay creations of incredible diversity, proudly represented here in this set of eight yunomi green tea cups.

Each piece represents just one member in Suzuki's expansive glazing repertoire. From the heated depths of his shimmering black kokuyosai to the golden luster of yōhen-kin, the set stands as a testament to the breadth and brilliance of his shino artistry.

Suzuki Tomio's shino pottery is held in private collections around the world and, in 2011, was acquired by the Philadelphia Museum of Art for display in their East Asian Art collection.



A wooden presentation box will be custom made to order and signed by the artist. Delivery time for this item is 2 weeks.

View Suzuki Tomio's Profile | View all works by this artist.
Shipping Fees

| | in | cm | lbs | kg |
| --- | --- | --- | --- | --- |
| diameter | 3.5" | 9.0 | | |
| height | 3.7" | 9.5 | | |
| weight | | | 7.72 | 3.5 |