Haiyū Yōhen Tea Ceremony Bowl by Wada Tōzan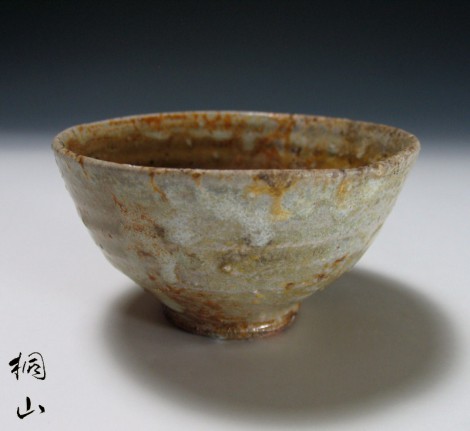 Description
This ash glazed (haiyū) tea ceremony bowl by Wada Tōzan was fired around the ash pit of Ōizumi-gama - the Wada family's noborigama climbing kiln. At 1,250°C (2,300°F) degrees, it was blasted with wave after wave of red pine and cedar embers, each one adding another layer of texture and color. What finally arose from the ashes is a true masterpiece, blessed with incidental details which could never be reproduced in subsequent firings.

The face of the bowl (shōmen) is a fluid collage of amber yōhen (kiln changes) rivulets and ocher speckles. The tea pool inside is encrusted with pine embers now frozen in time, and the entire piece exudes a raw energy that naturally draws viewers in closer to ponder the dynamics of its creation.



A wooden presentation box will be custom made to order and signed by the artist. Delivery time for this item is 2 weeks.

A fukusa display cloth is included.

View Wada Tōzan's Profile | View all works by this artist.
Shipping Fees

| | in | cm | lbs | g |
| --- | --- | --- | --- | --- |
| diameter | 5.5" | 13.9 | | |
| height | 3.1" | 8.0 | | |
| weight | | | 1.32 | 600 |