Yakishimé Beer Glass by Wada Hiroaki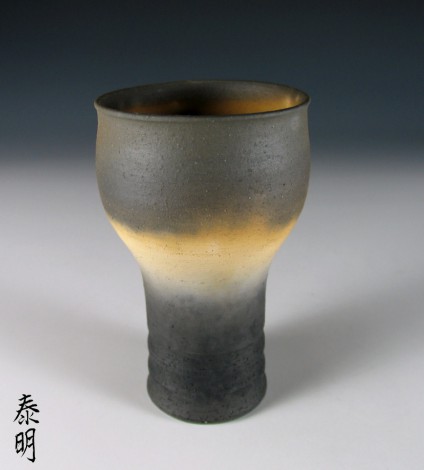 Description
Yakishimé is a general term used to describe several types of high-fired, unglazed wares. In the absence of glazing or other decorative elements, the quality and character of the clay, referred to in Japanese as its "flavor", become the points upon which aesthetic valuations are made.

This elegant beer glass is a proud display of Wada Hiroaki's command over yakishimé. It is deftly formed with a fine-grained clay and fired in a saggar (clay cylinder) packed with rice husks - lightly at the top and more densely at the bottom. As the husks burn at varying intensities, subtle gradations form as the clay is permanently changed. Full of warmth and unique flavor, it is sure to become a beer drinker's favorite.

Best when chilled before use.



A wooden presentation box will be custom made to order and signed by the artist. Delivery time for this item is 2 weeks.

View Wada Hiroaki's Profile | View all works by this artist.
Shipping Fees

| | in | cm | lbs | g |
| --- | --- | --- | --- | --- |
| diameter | 3.8" | 9.6 | | |
| height | 5.9" | 15.1 | | |
| weight | | | 1.54 | 700 |