Gohon Hakémé Tea Ceremony Bowl by Wada Hiroaki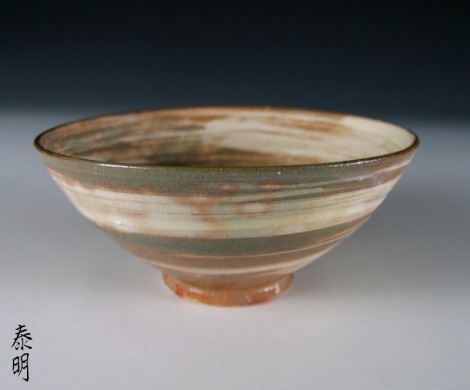 Description
Gohon wares originated in Korea and were order-made for Japanese tea masters and the daimyo class in the late 1500s. Orders were sent to distant kilns via a design book, the "honorable book" (go hon), thus the name.

Gohon is one of the many different ceramic genres in which Wada Hiroaki excels. An ash slip is first applied to the bowl with a stiff brush in quick, energetic strokes - a technique called hakémé. During firing, pink and gray spots appear, but only under the most precise kiln conditions - a narrow window in which oxygen is sapped out of the slip.

Wada Hiroaki hits the mark and proudly introduces this summer tea ceremony bowl, or natsu-jawan. Formed with a wide brim which allows whipped matcha green tea to cool more rapidly, the bowl is best suited for hotter months.



A wooden presentation box will be custom made to order and signed by the artist. Delivery time for this item is 2 weeks.

A fukusa display cloth is included.

View Wada Hiroaki's Profile | View all works by this artist.
Shipping Fees

| | in | cm | lbs | g |
| --- | --- | --- | --- | --- |
| diameter | 5.4" | 13.8 | | |
| height | 2.5" | 6.3 | | |
| weight | | | 1.32 | 600 |