Yōhen-kin Enso Tea Ceremony Bowl by Suzuki Tomio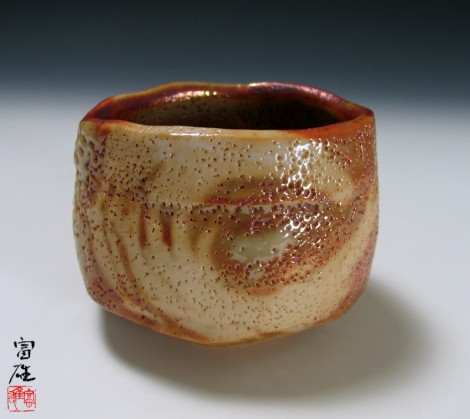 Description
At the height of his power, warlord Toyotomi Hideyoshi (1536-1598) ordered the construction of a golden tea ceremony room at Osaka Castle. It would become a testament to his vast wealth and influence and, against the sensibilities of his appointed tea master, Sen no Rikyū, was used for political and military discussions. Honored guests were served tea from a glittering bowl coated with pure gold.

The story of Hideyoshi's opulent tea room was the source of inspiration behind Suzuki Tomio's yōhen-kin shino. It took nearly a decade of experimentation and refinement to create a lustrous, golden glaze while strictly adhering to traditional shino making techniques.

Although the components of the glaze remain secret, the artist will concede that no precious metal is used in the process. Unlike Hideyoshi's gold covered tea bowl, the radiant character of yōhen-kin shino is born inside the kiln.

This tea ceremony bowl (chawan) is done in Suzuki's signature glaze. The face holds an enso, or Zen circle, applied in one wide, brisk stroke. The back, in contrast, is much more reserved - a respectful nod to the citrus skin texture of shino's classical past. The walls are meticulously hand-formed with overlapping coils of light mogusa clay that lead up to an undulating yama-michi mountain path rim, and the weight of the piece balances perfectly on its footring.

A chawan that beckons from afar and asks all to peer inside. When filled with whipped green tea, the interior becomes a stunning panorama - like an emerald lake at sunrise.

Suzuki Tomio's shino pottery is held in private collections around the world and, in 2011, was acquired by the Philadelphia Museum of Art for display in their East Asian Art collection.


A wooden presentation box will be custom made to order and signed by the artist. Delivery time for this item is 2 weeks.

A fukusa display cloth is included.

View Suzuki Tomio's Profile | View allworks by this artist.
Shipping Fees

| | in | cm | lbs | g |
| --- | --- | --- | --- | --- |
| diameter | 5.1" | 13.0 | | |
| height | 3.7" | 9.5 | | |
| weight | | | 1.76 | 800 |