Yōhen Haikaburi Fresh Water Jar by Wada Hiroaki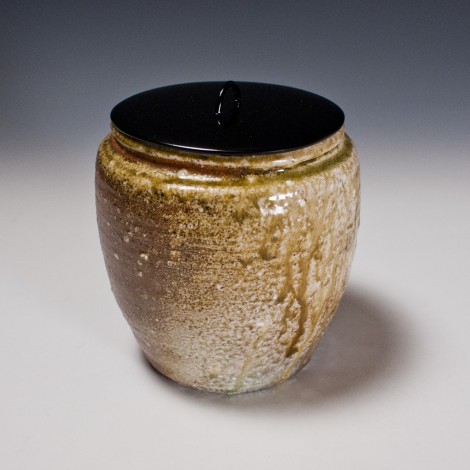 Description
Haikaburi means literally "ash covered." It is a technique which involves placing pots directly into the ash pit of a kiln that has already been fired for several hours. As more wood is burned, ash builds up around the pot and fuses with the clay body. With a failure rate of well over 70 percent, haikaburi is a very hit-and-miss technique, but pots that can survive the grueling conditions inside the pit display an unrefined energy like no other type of ceramic.

This fresh water jar (mizusashi) by Wada Hiroaki was fired at Ōizumi-gama - the Wada family's noborigama climbing kiln. It is a proud example of the kind of yōhen effects that only wood-fired pottery can exhibit. At a peak temperature of 1,250°C (2,300°F) degrees, the surface of the unglazed clay became forever heat changed, forming a number of subtle gradations and fluid streams.

The piece is fitted with a polished black lacquer lid.

Mizusashi play a central role in tea ceremony and are carefully chosen to match the aesthetic scheme the host selects for the particular occasion. These important vessels hold the pure, cold water which is boiled and used to prepare the sacred tea.



A wooden presentation box will be custom made to order and signed by the artist. Delivery time for this item is 2 weeks.

View Wada Hiroaki's Profile | View all works by this artist.
Shipping Fees

| | in | cm | lbs | Kg |
| --- | --- | --- | --- | --- |
| diameter | 6.2" | 15.8 | | |
| height | 7.1" | 18.0 | | |
| weight | | | 4.41 | 2.0 |