Yōhen Shikō Saké Cup by Kamada Kōji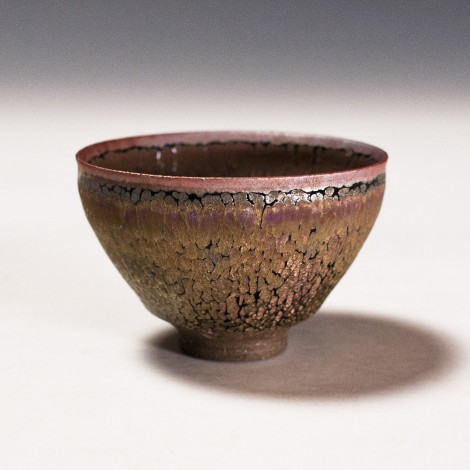 Description
Through constant experimentation, Kamada Kōji has elevated tenmoku, a technique originating in China during the Song dynasty, to an even higher level of refinement with the introduction of several signature glazes, each one adding another facet to the incredible diversity of his art.

This saké cup is done in yōhen shikō - one of the recent additions to Kamada's glazing repertoire. Heat within the kiln serves as the catalyst for a complex reaction between wood ash, iron oxide and the minerals in the clay body. The results are simply transcendent - like a veiny moth's wing in the sunlight, radiating blended hues of gold and bronze. The purple ring on the interior speaks of the heavenly associations held in its inscription. Read literally, the characters for tenmoku mean "heaven's eye."

Kamada Kōji's tenmoku works are held in private collections around the world and, in 2005, were acquired by New York's Metropolitan Museum of Art for display in their Asian Art collection. In 2018, he held his 50th Memorial Exhibition in Kyoto & Tokyo.




View Kamada Kōji's Profile | View all works by this artist.
Shipping Fees

| | in | cm | lbs | g |
| --- | --- | --- | --- | --- |
| diameter | 2.9" | 7.4 | | |
| height | 1.8" | 4.7 | | |
| weight | | | 0.66 | 300 |