Yōhen Yuteki Incense Burner by Kamada Kōji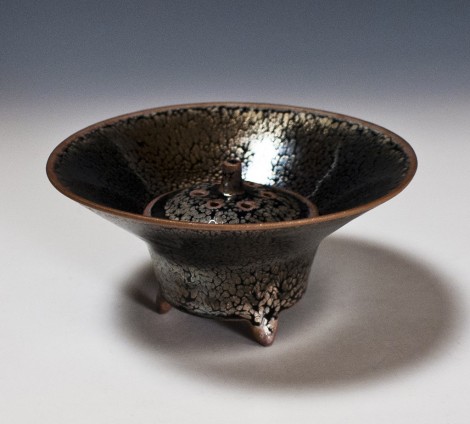 Description
Tenmoku holds an honored position in the history and development of tea ceremony in Japan. Tenmoku bowls were first introduced in the 13th century by Buddhist monks returning from their studies in China. They were highly regarded among the Ashikaga shogun, warriors as well as avid tea practitioners, who used them extensively in the evolving art of chanoyu, or Japanese tea ceremony.

Kamada Kōji has elevated tenmoku to an even higher level through tireless experimentation and slight refinements to this ancient technique. Among the different glazes in his tenmoku repertoire, yōhen yuteki is one of the most visually stunning. While cooling in the kiln, streams of wood ash fan out to reveal the shiny layer of iron oxide beneath - like the veins of a moth's wing glimmering in the sunlight.

Reminiscent of the type used by the imperial courts of old, this incense burner (kōrō) is done in yōhen yuteki. The base is deftly formed to flare outward, much like a summer tea ceremony bowl, effectively showing the character of the glaze in all of its splendor.

Although kōro of this type are traditionally used for holding pieces of smoldering charcoal upon which powdered incense is burned, this piece can easily accommodate stick types as well. Incense is used while the lid is off, wafting through the holes for a time when the lid is replaced.

Kamada Kōji's tenmoku works are held in private collections around the world and, in 2005, were acquired by New York's Metropolitan Museum of Art for display in their Asian Art collection.


A wooden presentation box will be custom made to order and signed by the artist. Delivery time for this item is 2 weeks.

View Kamada Kōji's Profile | View all works by this artist.
Shipping Fees

| | in | cm | lbs | g |
| --- | --- | --- | --- | --- |
| diameter | 6.5" | 16.4 | | |
| height | 3.1" | 8.0 | | |
| weight | | | 1.76 | 800 |