Haitō Ryokusai Ash Glazed Tsubo Jar by Ikai Yūichi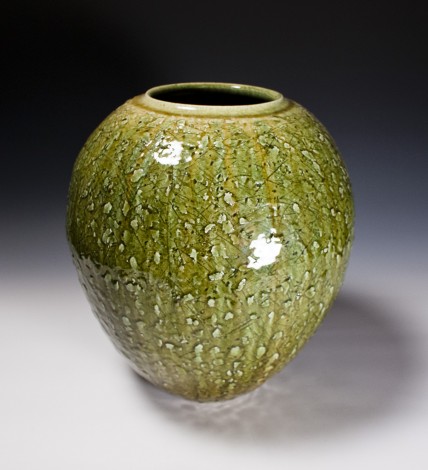 Description
Kyoto native Ikai Yūichi has trained under the late Shimizu Uichi (1926-2004) who, in 1985, was awarded the title of Living National Treasure for his outstanding work in ceramic making. And it is from his sensei that Ikai learned the secrets to coaxing subtle hues and fluid effects from the oldest and most rudimentary of all glazes - hai, or ash.

This majestic tsubo jar is glazed in red pine and straw ash. It came from the kiln enrobed in a verdant green (ryokusai) tone with fluid effects cascading over its highly textured surface. It is a resplendent example of Ikai's mastery over ash glazes.

Although traditionally used for storing tea leaves and other dry goods, tsubo also serve as vessels for flower arrangements, and this one is large enough to accommodate grand compositions of branches and long stemmed flowers. As a decorative piece, however, it commands equal attention all on its own.



A wooden presentation box can be ordered for an additional fee. Delivery time for this item is 2 weeks.

View Ikai Yūichi's Profile | View all works by this artist.
Shipping Fees

| | in | cm | lbs | kg |
| --- | --- | --- | --- | --- |
| diameter | 13.7" | 34.7 | | |
| height | 15.2" | 38.6 | | |
| weight | | | 18.4 | 8.3 |