Kagayō Shino Green Tea Cup by Suzuki Tomio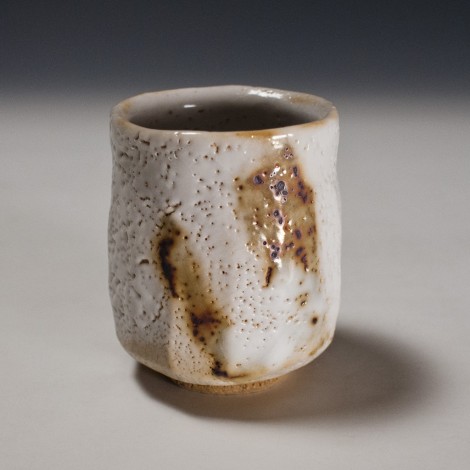 Description
Shino pottery was first fired during the Momoyama era (1568-1603) at kilns in Minō - central Japan. Glazed with a simple mixture of mostly feldspar and water, shino is renowned for its textured, citrus skin-like surface.

Hailing from Kyoto's Yawata District, Suzuki Tomio has reinvigorated the world of shino with his clay creations of tactile richness and captivating glazing - like this green tea cup done in his signature kagayō shino.

Kagayō shino was born from a single creative impulse - to bring together a number of elements from different shino techniques and present them all in a multi-layered collage on clay. What the artist has created is a glaze that beautifully melds the citrus peel texture of classical shino, hints of aka shino's rust reds, iron-rich brushed details and the shimmering quality of his golden yōhen-kin shino glaze.

The proud addition to any green tea drinker's yunomi collection. For hot or cold green tea or iced tea.

Suzuki Tomio's shino pottery is held in private collections around the world and, in 2011, was acquired by the Philadelphia Museum of Art for display in their East Asian Art collection.

View Suzuki Tomio's Profile | View all works by this artist.
Shipping Fees

| | in | cm | lbs | g |
| --- | --- | --- | --- | --- |
| diameter | 3.1" | 8.0 | | |
| height | 3.8" | 9.6 | | |
| weight | | | 1.10 | 500 |