Sakura Tea Ceremony Bowl by Suzuki Tomio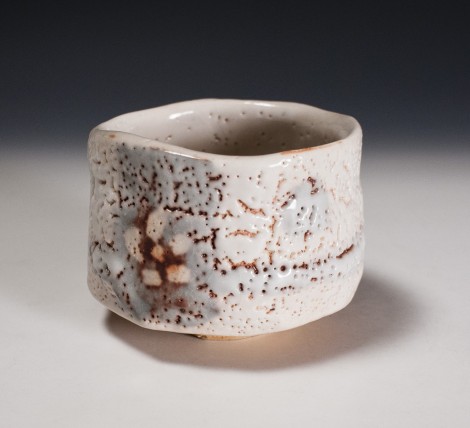 Description
Shino pottery was first fired during the Momoyama era (1568-1603) at kilns in Minō (central Japan), and its appearance marked a dramatic shift in the evolution of Japanese ceramic art. Its humble tone and characteristic citrus skin-like texture attracted the eyes of tea ceremony practitioners of the day who incorporated shino into the evolving art of chanoyu, or Japanese tea ceremony.

Hailing from Kyoto's Yawata district, ceramic artist Suzuki Tomio has reinvigorated the world of shino with his provocative clay creations of incredible tactile richness and creative energy, and this tea ceremony bowl is a wonderful example of his unique approach to pottery making.

The face of the bowl holds a figurative image of a cherry blossom (sakura) which is framed by a darker, iron-rich underlayer. The rear is a textured landscape of pinholes and deep crackles, formed as the feldspar glaze shrinks tightly around the clay body while cooling in the kiln - a humble nod by the artist to shino's classical past.

The body is deftly formed and well balanced on its footring. It is surprisingly light in the hands and is sure to become a tea practioner's highly cherished vessel.



A wooden presentation box will be custom made to order and signed by the artist. Delivery time for this item is 2 weeks.

A fukusa display cloth is included.

View Suzuki Tomio's Profile | View all works by this artist.
Shipping Fees

| | in | cm | lbs | g |
| --- | --- | --- | --- | --- |
| diameter | 4.9" | 12.5 | | |
| height | 3.8" | 9.7 | | |
| weight | | | 1.76 | 800 |