Kirikané Fresh Water Jar by Wada Tōzan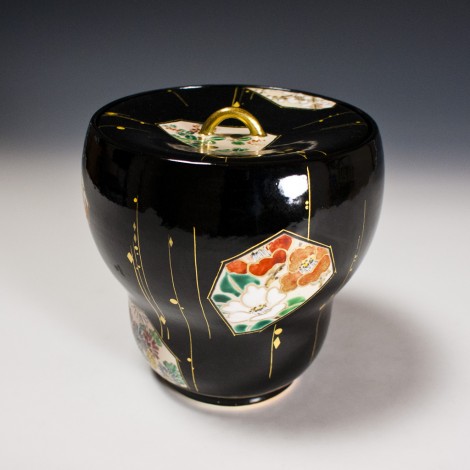 Description
Wada Tōzan is an accomplished artist with over 30 years of experience in producing the finest ceramics for tea ceremony. He excels in enamel overglazed pottery and porcelain, and his works are renowned for their floral motifs and traditional Japanese patterns rendered with impeccable detail and precision.

This inspired mizusashi fresh water jar is done in a manganese-rich black underglaze with vignettes of foliage representative of the four seasons, including cherry blossoms, chrysanthemum, lilies and maple leaves. The artist adds a touch of opulence with accents rendered in 24-carat gold leaf. The level of handwork is astounding. Each minute detail is cut and embossed in a technique pioneered by Wada Tōzan himself and officially named kirikané.

Mizusashi play a central role in tea ceremony and are carefully chosen to match the aesthetic scheme the host selects for the particular occasion. These important vessels hold the pure, cold water which is boiled and used to prepare the sacred tea.



A wooden presentation box will be custom made to order and signed by the artist. Delivery time for this item is 2 weeks.

View Wada Tōzan's Profile | View all works by this artist.
Shipping Fees

| | in | cm | lbs | kg |
| --- | --- | --- | --- | --- |
| diameter | 6.5" | 16.5 | | |
| height | 6.6" | 16.8 | | |
| weight | | | 3.86 | 1.75 |