Yōhen Suikō Saké Cup by Kamada Kōji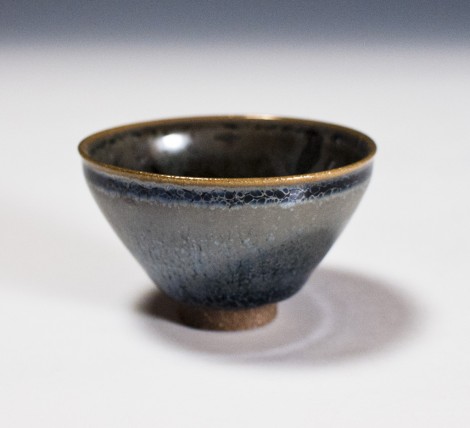 Description
Through constant experimentation and refinement, Kamada Kōji has elevated tenmoku, a technique originating in China during the Song dynasty, to an even higher level with the introduction of several signature glazes, each one adding another facet to the incredible diversity of his art.

Yōhen suikō is one of the more recent additions to Kamada's glazing repertoire. It was born from one modest goal set years before: to forego showy radiance and, instead, attempt to capture in a bowl the spirit of the wabi aesthetic - the cornerstone of Japanese tea ceremony which emphasizes the principles of simplicity, austerity and quiet taste. As easy as this may sound, the challenge would prove to be an enormous undertaking. For not only is the iron-saturated glaze which tenmoku calls for naturally lustrous, but none of the organic tones associated with the wabi aesthetic, like olive green or beige, can be produced in the kiln following the tenmoku way.

After years of methodical research, Kamada Kōji has finally succeeded in producing is own uniquely Japanese version of tenmoku, now proudly presented here in this striking saké cup.

Kamada Kōji's tenmoku works are held in private collections around the world and, in 2005, were acquired by New York's Metropolitan Museum of Art for display in their Asian Art collection.



View Kamada Kōji's Profile | View all works by this artist.
Shipping Fees

| | in | cm | lbs | g |
| --- | --- | --- | --- | --- |
| diameter | 2.9" | 7.5 | | |
| height | 1.8" | 4.7 | | |
| weight | | | 0.66 | 300 |