Sométsuké Decorative Bowl by Kanzan Shigeta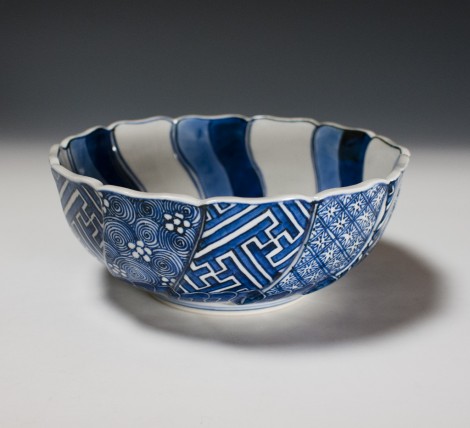 Description
An intricately formed sométsuké decorative bowl by Kyoto-based ceramic artist Kanzan Shigeta.

Kanzan excels in a highly sylized rendition of mentori forming, where leather-hard clay is cut away in facets. His work is characterized by traditional Japanese motifs and arabesques done in cobalt blue sométsuké overglazes and presented to the viewer three-dimensionally on skillfully formed porcelain pieces.

The eighth in a long, unbroken lineage of ceramic artists, Kanzan apprenticed under Denshichi VII, learning how to master the colorful brushwork and intricate overglaze patterns that have helped preserve the Kanzan appellation in Japan for over a century.



A wooden presentation box will be custom made to order and signed by the artist. Delivery time for this item is 2 weeks.

View Kanzan Shigeta's Profile | View all works by this artist.
Shipping Fees

| | in | cm | lbs | g |
| --- | --- | --- | --- | --- |
| diameter | 7.3" | 18.5 | | |
| height | 3.0" | 7.6 | | |
| weight | | | 1.98 | 900 |