Kagayō Shino Saké Cup by Suzuki Tomio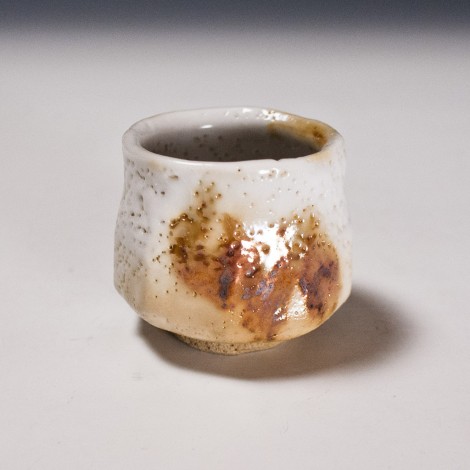 Description
Shino pottery was first fired during the Momoyama era (1568-1603) at kilns in Minō - central Japan. Glazed with a simple mixture of mostly feldspar and water, shino is renowned for its textured, citrus skin-like surface.

Hailing from Kyoto's Yawata District, Suzuki Tomio has reinvigorated the world of shino with his clay creations of tactile richness and captivating glazing - like this inspired saké cup done in his signature kagayō shino. While cooling in the kiln, the glaze shrinks disproportionately faster than the claybody, forming a cracked surface that reveals the lustrous underglaze below - like veins of gold in white marble.

A gem for any saké ware collection.

Suzuki Tomio's shino pottery is held in private collections around the world and, in 2011, was acquired by the Philadelphia Museum of Art for display in their East Asian Art collection.

View Suzuki Tomio's Profile | View all works by this artist.
Shipping Fees

| | in | cm | lbs | g |
| --- | --- | --- | --- | --- |
| diameter | 2.6" | 6.7 | | |
| height | 2.4" | 6.0 | | |
| weight | | | 0.66 | 300 |