Tetsubin Green Tea Set by Nagai Ken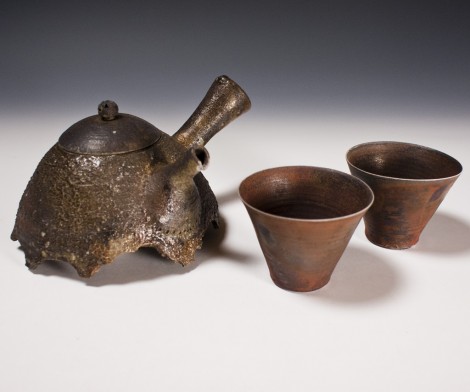 Description
Nagai Ken's clay creations are a skillful melding of two artistic genres: cast iron wares and wood-fired pottery.

This distinctive green tea pot resembles a miniature tetsubin - the kind of iron kettles used to boil water for green tea. Meticulously handcrafted in minute detail, it is a testament to the artist's exceptional forming skill.

The body was fired three times at Tenkū-gama, the artist's noborigama climbing kiln, and each successive firing added incidental details that only wood-fired pottery can exhibit: warm gradations of rust red to chocolate brown formed on the unglazed clay as it was forever heat changed, superheated feldspar crystals peppered the body as they burst through their earthen bed, and swirling embers of pine, in wave after wave, fused with the surface to produce a natural glaze which is rough yet pleasing to the touch.

The pot is accompanied by two matching cups fired in the same technique. The interior has a built-in sieve porous enough to allow small bits of green tea leaf to flow through - a timeless custom among tea drinkers in Japan. Its total capacity is 525 ml (about 18 oz.), which is enough to make several cups of tea. Gyokuro or a light-steamed green tea is highly recommended.

Functional as well as beautiful, this set promises many memorable tea moments over the years.



A wooden presentation box will be custom made to order and signed by the artist. Delivery time for this item is 2 weeks.

View Nagai Ken's Profile | View all works by this artist.
Shipping Fees

| | in | cm | lbs | kg |
| --- | --- | --- | --- | --- |
| pot | | | | |
| diameter | 6.7" | 17.0 | | |
| height | 4.3" | 11.0 | | |
| cups | | | | |
| diameter | 3.3" | 8.5 | | |
| height | 2.6" | 6.5 | | |
| set weight | | | 3.31 | 1.5 |