Ginshō Tenmoku Senbun Charger by Kamada Kōji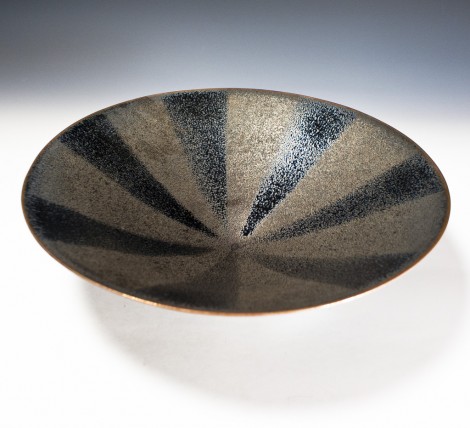 Description
Among the different members in his glazing repertoire, ginshō tenmoku is one of Kamada Kōji's most versatile. Where other tenmoku glazes form best when there is a constant gravitational pull toward the center, like on the inside of a tea bowl, the metallic quality of ginshō tenmoku forms at any gradient or irregular angle, and this has afforded the artist great latitude to experiment with vessel shapes of all types.

Kamada Kōji's masterful forming and glazing skill is proudly presented here in this striking tenmoku charger. The body is deftly formed to an exacting thinness and flares outward 45 degrees from its base in perfect balance and grace - a technical feat given that intense heat inside the kiln tends to warp a majority works of this shape and size.

The glaze is actually two renditions of the artist's signature ginshō tenmoku. The underglaze has a lustrous, brushed metal-like quality, while the darker rays which emit from the center (senbun) are rich in cobalt and have been feathered while cooling in the kiln. The dichromatic quality of the glazing gives the piece a sense of geometric strength, yet the golden highlights around the rim add just a touch of opulence.

This grand charger is 39 centimeters (15.3 inches) in diameter. It commands attention all on its own and makes the proud centerpiece for any Japanese-influenced interior or modern décor.

Kamada Kōji's tenmoku works are held in private collections around the world and, in 2005, were acquired by New York's Metropolitan Museum of Art for display in their Asian Art collection.



A wooden presentation box will be custom made to order and signed by the artist. Delivery time for this item is 2 weeks.

View Kamada Kōji's Profile | View all works by this artist.
Shipping Fees

| | in | cm | lbs | kg |
| --- | --- | --- | --- | --- |
| diameter | 15.3" | 39.0 | | |
| height | 4.1" | 10.5 | | |
| weight | | | 5.51 | 2.5 |