Tsuru Incense Burner by Sawada Hiroyuki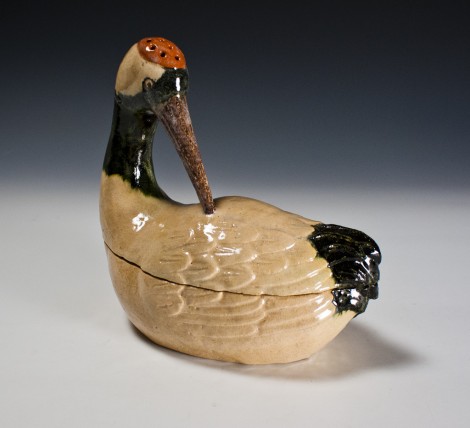 Description
No other tea ceremony accessory has quite the same spiritual function as kōro. Incense drifting throughout the tea room helps to clear the mind, making participants more attuned to the tranquility inside this sacred place.

More than just mere burners, however, kōro should be decorative and eye-catching pieces as well. And this inspired incense burner by Sawada Hiroyuki is certainly that. It is skillfully hand-crafted to resemble one of Japan's most enduring symbols - the red-crowned crane, or tanchō tsuru. These almost mystical birds symbolize happiness, good fortune, and the power of rejuvenation. It is even said that they live a thousand years.

Although kōro of this type are traditionally used for holding pieces of smoldering charcoal upon which powdered incense is burned, this piece can easily accommodate stick or cone types as well. Incense is used while the lid is off, wafting through the crown for a time when the lid is replaced.

Embued with the fortuitous powers of tanchō tsuru, this kōro makes an attractive accessory for any Japanese-influenced interior.



A wooden presentation box will be custom made to order and signed by the artist. Delivery time for this item is 2 weeks.

View Sawada Hiroyuki's Profile | View all works by this artist.
Shipping Fees

| | in | cm | lbs | kg |
| --- | --- | --- | --- | --- |
| length | 8.9" | 22.5 | | |
| width | 4.9" | 12.5 | | |
| height | 8.7" | 22.0 | | |
| weight | | | 4.41 | 2.0 |