Yōhen Mizusashi Fresh Water Jar by Wada Tōzan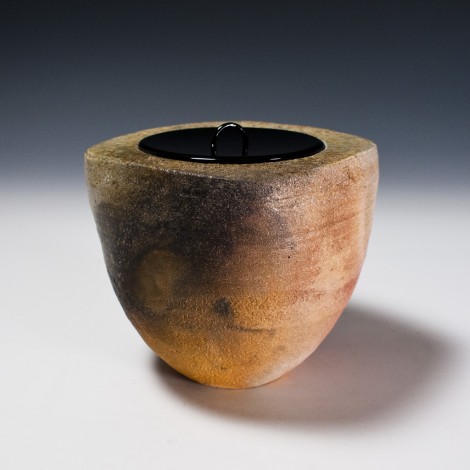 Description
"Yōhen" is a term used to describe a range of effects rendered on pottery as the clay and glaze are transformed by the dynamics inside the kiln. Sometimes referred to as "kiln Gods", yōhen is often responsible for the incidental markings that are beyond the control, and often the expectations, of the artist.

This handsome fresh water jar (mizusashi) by Wada Tozan was fired at Ōizumi-gama - the Wada family's noborigama climbing kiln. It is a striking example of the kind of yōhen effects that only wood-fired pottery can exhibit.

At a peak temperature of 1,250°C (2,300°F) degrees, the surface of the unglazed clay became forever heat changed, forming a number of subtle gradations: from pastel orange and pink to patches of scorched earth. Around the rim of the jar, embers of pine and cedar came to rest, fusing with the clay to form a lustrous natural ash glaze.

In a nod to asymmetry over mechanical precision, the artist formed the jar to undulate around a rim which is fitted with a polished black lacquer lid.

Mizusashi play a central role in tea ceremony and are carefully chosen to match the aesthetic scheme the host selects for the particular occasion. These important vessels hold the pure, cold water which is boiled and used to prepare the sacred tea.



A wooden presentation box will be custom made to order and signed by the artist. Delivery time for this item is 2 weeks.

View Wada Tōzan's Profile | View all works by this artist.
Shipping Fees

| | in | cm | lbs | kg |
| --- | --- | --- | --- | --- |
| length | 7.6" | 19.2 | | |
| width | 7.5" | 19.0 | | |
| height | 6.4" | 16.2 | | |
| weight | | | 4.41 | 2.0 |