Yōhen Pyrenees Tea Ceremony Bowl by Wada Tōzan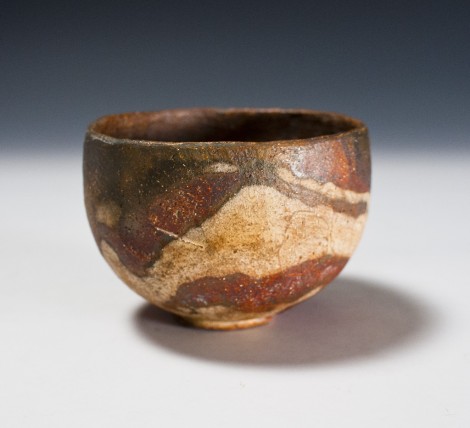 Description
"Yōhen" is a term used to describe a range of effects rendered on pottery as the clay and glaze are transformed by the dynamics inside the kiln. Sometimes referred to as "kiln Gods", yōhen is often responsible for the incidental markings that are beyond the control, and often the expectations, of the artist.

This tea ceremony bowl by Wada Tōzan is, perhaps, the best representative of the influence of yōhen. It was born from a recent collaboration in France between the artist and a French colleague. In similar fashion to Wada's raku tea ware, the body was formed completely by hand from a single ball of clay, without the aid of a potter's wheel, in a technique called tébineri. It was then fired in a raku kiln. The clay itself was taken from a deposit near France's Pyrenees mountains range.

What arose from the charcoal ashes was a pleasant and very unexpected surprise. Although left unglazed by the artist and devoid of any contrived embellishments, the bowl holds a figurative mountain range swept by rolling clouds - likely formed by an interaction between the mineral deposits in the clay and the variable temperatures inside the raku kiln.

The bowl is deftly formed and balances perfectly upon its footring. When filled with whipped matcha, it transforms into a stunning mountainscape.



A wooden presentation box will be custom made to order and signed by the artist. Delivery time for this item is 2 weeks.

A fukusa display cloth is included.

View Wada Tōzan's Profile | View all works by this artist.
Shipping Fees

| | in | cm | lbs | g |
| --- | --- | --- | --- | --- |
| diameter | 4.6" | 11.8 | | |
| height | 3.3" | 8.5 | | |
| weight | | | 1.32 | 600 |