Yōhen Haikaburi Tea Ceremony Bowl by Wada Tōzan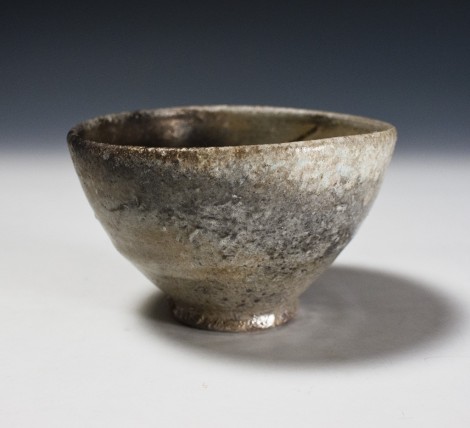 Description
Haikaburi means literally "ash covered." It is a technique which involves placing pots directly in or around the ash pit of a kiln that has already been fired for several hours. With a failure rate of well over 60 percent, haikaburi is a very hit-and-miss technique, but pots that can survive the grueling conditions in the pit display an unrefined energy like no other type of ceramic.

This yōhen haikaburi tea ceremony bowl by Wada Tōzan is one of those proud survivors. It was fired at Ōizumi-gama - the Wada family's noborigama climbing kiln. At 1,250°C (2,300°F) degrees, it was placed in the ash pit and blasted with wave after wave of red pine and cedar embers, each one adding another layer of texture and color until the bowl became buried on its fired side. What arose from the ashes is a true one-of-a-kind piece, blessed with incidental details which could never be reproduced.

On the face of the bowl, a light ash slip is transformed into a lunar-like landscape of dark seas and lighter plains, while the back, in contrast, is more tranquil. Heat change gradations and encrusted ash inside the tea pool serve as testament to the awesome dynamics inside Ōizumi-gama.



A wooden presentation box will be custom made to order and signed by the artist. Delivery time for this item is 2 weeks.

A fukusa display cloth is included.

View Wada Tōzan's Profile | View all works by this artist.
Shipping Fees

| | in | cm | lbs | g |
| --- | --- | --- | --- | --- |
| diameter | 5.2" | 13.3 | | |
| height | 3.3" | 8.5 | | |
| weight | | | 1.54 | 700 |