Nezumi Shino Green Tea Cup by Suzuki Tomio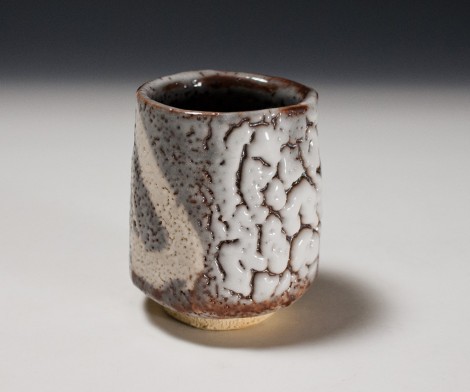 Description
Shino pottery was first fired during the Momoyama era (1568-1603) at kilns in Minō, and its appearance marked a dramatic shift in the evolution of Japanese ceramic art. Its distinctive pinhole texture attracted the eyes of tea ceremony practitioners of the day who soon incorporated shino into the evolving art of chanoyu tea ceremony.

Hailing from Kyoto's Yawata District, Suzuki Tomio has reinvigorated the world of shino with his provocative clay creations of incredible tactile richness and creative energy. Lavish applications of feldspar, deep crackles and bold brushwork are the trademarks of his craft.

This green tea cup is a proud display of Suzuki's unique approach to shino. It is done in nezumi (lit. "mouse") shino, as denoted by its soft grey colors. While cooling in the kiln, the glaze shrinks disproportionately faster around the claybody, forming a exquisitely crackled landscape that invites closer exploration.

For hot or cold green tea or iced tea.

Suzuki Tomio's shino pottery is held in private collections around the world and, in 2011, was acquired by the Philadelphia Museum of Art for display in their East Asian Art collection.

View Suzuki Tomio's Profile | View all works by this artist.
Shipping Fees

| | in | cm | lbs | g |
| --- | --- | --- | --- | --- |
| diameter | 3.4" | 8.7 | | |
| height | 3.8" | 9.6 | | |
| weight | | | 1.10 | 500 |