Tenmoku Yuwan Green Tea Cup Set by Kamada Kōji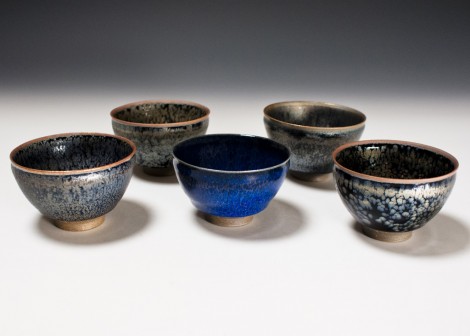 Description
Tenmoku holds an honored position in the history and development of tea ceremony in Japan. Tenmoku bowls were first introduced in the 13th century by Buddhist monks returning from their studies in China. They were highly regarded among the Ashikaga shogun, warriors as well as avid tea practitioners, who used them extensively in the evolving art of chanoyu, or Japanese tea ceremony.

Through years of experimentation, Kyoto ceramic artist Kamada Kōji has elevated the tenmoku technique to an even higher level of refinement and diversification - now proudly displayed here in this resplendent tenmoku green tea cup set. Five different glazes comprise the collection: from the lustrous, veiny quality of yuteki tenmoku to the mysterious cobalt blue depths of his signature yōhen suisei. It stands as a proud testament to the breadth of Kamada's artistry.

Each cup is precisely formed to a wafer-like thinness and perfectly balanced. They are called yuwan in Japanese - a term which implies their classical tenmoku tea ceremony bowl shape.

Kamada Kōji's tenmoku works are held in private collections around the world and, in 2005, were acquired by New York's Metropolitan Museum of Art for display in their Asian Art collection.



A wooden presentation box will be custom made to order and signed by the artist. Delivery time for this item is 2 weeks.

View Kamada Kōji's Profile | View all works by this artist.
Shipping Fees

| | in | cm | lbs | g |
| --- | --- | --- | --- | --- |
| diameter | 3.7" | 9.4 | | |
| height | 2.4" | 6.0 | | |
| weight | | | 1.54 | 700 |