Kōyō Autumn Wall Decoration by Wada Tōzan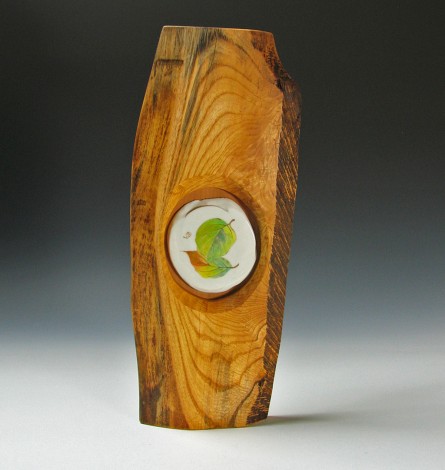 Description
Wada Tōzan's specializes mainly in Kyo-yaki (Kyoto ware) porcelain. His tea ceremony bowls, vases and fresh water jars display a high level of beauty and sophistication with their intricate patterns and masterful brushwork. Low-relief enameled images of seasonal flora, called iro-é, traditional Japanese patterns, and 24-carat gold detailing are the trademarks of his craft.

On this seasonal wall decoration, a porcelain roundel is decorated with overglaze images of autumn leaves, or kōyō, and set inside a cut of burnished Japanese fir. It adds a bit of rustic charm to any décor.

View Wada Tōzan's Profile | View all works by this artist.
Shipping Fees

| | in | cm | lbs | kg |
| --- | --- | --- | --- | --- |
| length | 19.3" | 49.0 | | |
| width | 7.7" | 19.5 | | |
| height | 1.0" | 2.5 | | |
| weight | | | 2.76 | 1.25 |