Murasaki Shino Tea Ceremony Bowl by Suzuki Tomio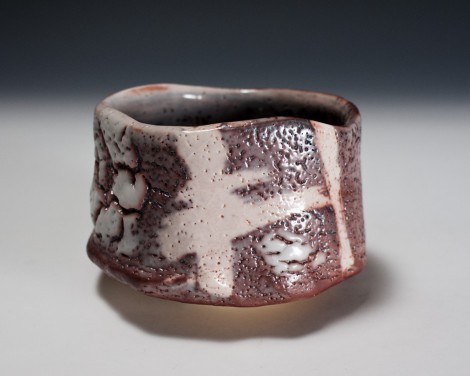 Description
Shino pottery was first fired during the Momoyama era (1568-1603) at kilns in Minō, and its appearance marked a dramatic shift in the evolution of Japanese ceramic art. Its distinctive pinhole texture attracted the eyes of tea ceremony practitioners of the day who soon incorporated shino-yaki into the evolving art of chanoyu tea ceremony.

Hailing from Kyoto's Yawata District, Suzuki Tomio has reinvigorated the world of shino with his provocative clay creations of incredible tactile richness and creative energy. Lavish applications of feldspar, deep crackles and bold brushwork are the trademarks of his craft.

This enchanting tea ceremony bowl epitomizes Suzuki's unique approach to pottery making. While cooling in the kiln, the thick feldspar overglaze shrinks tightly around the clay body, forming a textured landscape of pinholes and crackles. It came from the kiln enrobed in a soothing pastel murasaki purple hue.

The walls of the bowl are meticulously hand-formed with overlapping coils of mogusa clay which lead up to an undulating "mountain path" rim. When filled with whipped matcha green tea, the complimentary colors strike a beautifully harmonious balance.

Suzuki Tomio's shino pottery is held in private collections around the world and, in 2011, was acquired by the Philadelphia Museum of Art for display in their East Asian Art collection.



A wooden presentation box will be custom made to order and signed by the artist. Delivery time for this item is 2 weeks.

A fukusa display cloth is included.

View Suzuki Tomio's Profile | View all works by this artist.
Shipping Fees

| | in | cm | lbs | g |
| --- | --- | --- | --- | --- |
| diameter | 5.2" | 13.3 | | |
| height | 3.5" | 9.0 | | |
| weight | | | 1.76 | 800 |