Yōhen-kin Shino Green Tea Cup by Suzuki Tomio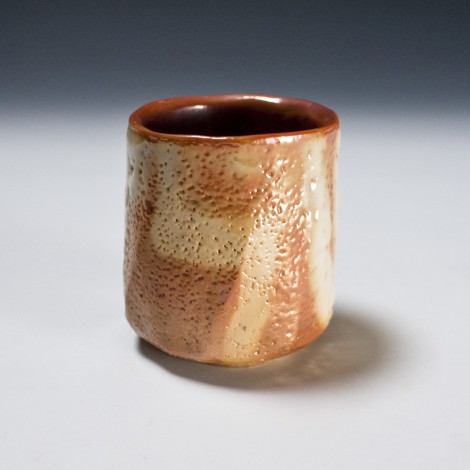 Description
At the height of his power, warlord Toyotomi Hideyoshi (1536-1598) ordered the construction of a golden tea ceremony room at Osaka Castle. It would become a testament to his vast wealth and influence and, against the sensibilities of his appointed tea master, Sen no Rikyū, was used for political and military discussions. Honored guests were served tea from a glittering bowl coated with pure gold.

The story of Hideyoshi's opulent tea room was the source of inspiration behind Suzuki Tomio's yōhen-kin shino. It took nearly a decade of experimentation and refinement to created a lustrous, golden glaze while strictly adhering to traditional shino making techniques.

The results of Suzuki's efforts are now proudly on display here in this exquisite yōhen-kin shino green tea cup. It is sure to become a tea drinker's closely guarded treasure.

For hot or cold green tea or iced tea.

Suzuki Tomio's shino pottery is held in private collections around the world and, in 2011, was acquired by the Philadelphia Museum of Art for display in their East Asian Art collection.

View Suzuki Tomio's Profile | View all works by this artist.
Shipping Fees

| | in | cm | lbs | g |
| --- | --- | --- | --- | --- |
| diameter | 3.3" | 8.4 | | |
| height | 3.6" | 9.2 | | |
| weight | | | 1.1 | 500 |