Ginshō Tenmoku Tsuisen Tsubo by Kamada Kōji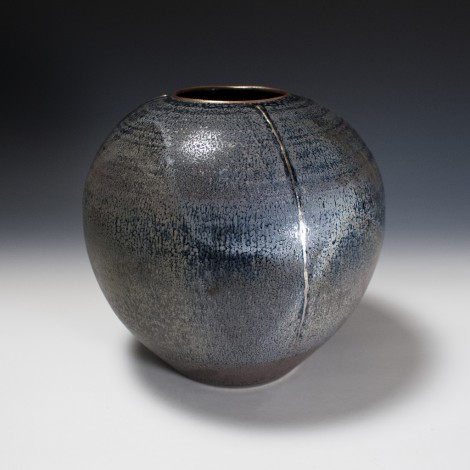 Description
Through constant experimentation and refinement, Kamada Kōji has produced a number of glazes over the years, each one further adding to the breadth and brilliance of his tenmoku artistry.

Among the different members in his glazing repertory, ginshō tenmoku is one of Kamada's most versatile. Where other tenmoku glazes, especially those in the yōhen line, form best when there is a constant gravitational pull, like on the inside of a tea bowl, the metallic quality of ginshō tenmoku forms at any gradient or irregular angle, and this has afforded the artist the latitude to experiment with vessel shapes of any type.

Here, Kamada Kōji shows his masterful forming and glazing skill in this stately ginshō tenmoku tsubo jar. Wood ash in the glaze creates a feathery overlayer around the body, while heat variations inside the kiln create undulations of brushed metal and silvery blue. Golden highlights on edges and low-relief lines (tsuisen) add just a touch of opulence to the piece.

This tsubo is heavy enough to hold large arrangements of angled branches and long stemmed flowers. It commands equal attention, however, all on its own and makes the ideal centerpiece for any Japanese-influenced interior or modern décor.

Kamada Kōji's tenmoku works are held in private collections around the world and, in 2005, were acquired by New York's Metropolitan Museum of Art for display in their Asian Art collection.



A wooden presentation box will be custom made to order and signed by the artist. Delivery time for this item is 2 weeks.

View Kamada Kōji's Profile | View all works by this artist.
Shipping Fees

| | in | cm | lbs | kg |
| --- | --- | --- | --- | --- |
| diameter | 10" | 25.4 | | |
| height | 9.4" | 23.9 | | |
| weight | | | 8.8 | 4.0 |