Yōhen Shikō Tea Ceremony Bowl by Kamada Kōji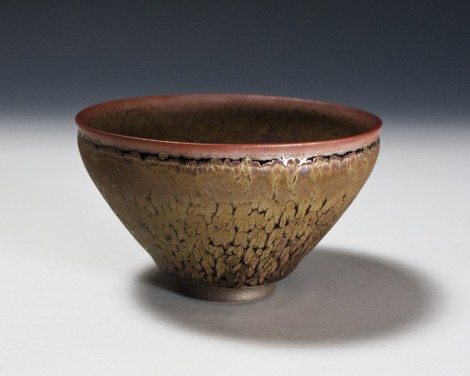 Description
Tenmoku holds an honored position in the history and development of tea ceremony in Japan. Tenmoku bowls were first introduced in the 13th century by Buddhist monks returning from their studies in China. They were highly regarded among the Ashikaga shogun, warriors as well as avid tea practitioners, who used them extensively in the evolving art of chanoyu, or Japanese tea ceremony.

Through constant experimentation, Kamada Kōji has elevated tenmoku to an even higher level of refinement with the introduction of several signature glazes. Each one adds another facet to the incredible diversity of his art, and yōhen shikō is one of the proud new members to his growing glazing repertory.

This tea ceremony bowl (chawan) is done in yōhen shikō. Heat within the kiln serves as the catalyst for a complex reaction between wood ash, iron oxide and the minerals in the clay body. The resulting effect is simply transcendent. Like a veiny moth's wing in the sunlight, the bowl radiates blended hues of bronze, gold and purple. When filled with whipped matcha green tea, the harmonious colors are simply breathtaking.

The body is skillfully formed in the classical tenmoku tea bowl shape and perfectly balanced on its footring. With links to tenmoku's past and present, the bowl makes the ideal acquisition for any collector with an interest in chanoyu.

Kamada Kōji's tenmoku works are held in private collections around the world and, in 2005, were acquired by New York's Metropolitan Museum of Art for display in their Asian Art collection.


A wooden presentation box will be custom made to order and signed by the artist. Delivery time for this item is 2 weeks.

A fukusa display cloth is included.

View Kamada Kōji's Profile | View all works by this artist.
Shipping Fees

| | in | cm | lbs | g |
| --- | --- | --- | --- | --- |
| diameter | 4.9" | 12.6 | | |
| height | 2.9" | 7.5 | | |
| weight | | | 1.54 | 700 |