Haiyūsai Kokusen Vase by Ikai Yūichi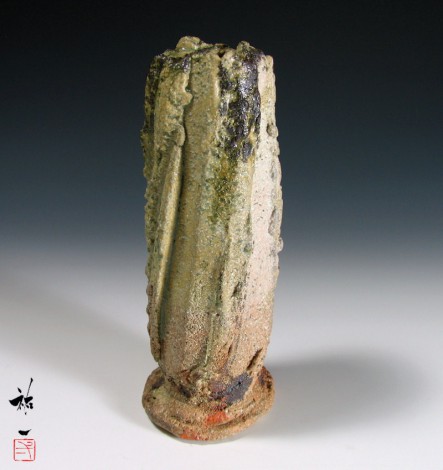 Description
Ikai Yūichi's approach to pottery making is to intervene as little as possible between nature and the work itself. Any sort of mechanization to his craft is minimized in every step of the creative process: ash glazes (haiyū) are unfiltered and additive free, clays are grainy and unprocessed, and forming tools are often just his bare hands or a tree branch. Imperfection and asymmetry are emphasized over mechanical precision or any contrived embellishments. As a result, his works are imbued with a natural, organic quality that resonates with Zen spirituality.

This ash-glazed vase exemplifies Ikai's philosophy in every way. The body was sculpted with the broken end of a branch in swift, upward strokes that add a real sense of energy to the work. At just the right plasticity, the grainy clay cleaved beautifully into a richly textured landscape of winding troughs that hold a soft green glaze of cedar and iron markings (kokusen).

The vase can accommodate small arrangements but is better suited for the display of one, solitary flower. It commands equal attention, though, all on its own and makes the ideal accessory for any Japanese-influenced interior or modern décor.


A wooden presentation box will be custom made to order and signed by the artist. Delivery time for this item is 2 weeks.

View Ikai Yūichi's Profile | View all works by this artist.
Shipping Fees

| | in | cm | lbs | kg |
| --- | --- | --- | --- | --- |
| diameter | 3.9" | 9.8 | | |
| height | 10.7" | 27.2 | | |
| weight | | | 5.51 | 2.5 |