Yōhen Koh Tenmoku Saké Cup by Kamada Kōji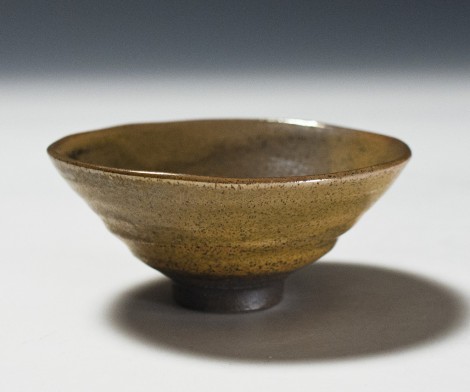 Description
This intriguing saké cup is done in Kamada Kōji's signature yōhen koh - a glaze which derives its name from the fine yellow sand which drifts over to Japan from the Gobi Desert every spring. Unlike its shinier tenmoku cousins, the character of yōhen koh is much more reserved. A complex reaction between iron and ash creates the appearance of fine yellow sand dusted over a golden underlayer.

The body is handcrafted to a wafer-like thinness and undulates upward from the footring. It makes a unique addition to any saké vessel collection.

Kamada Kōji's tenmoku works are held in private collections around the world and, in 2005, were acquired by New York's Metropolitan Museum of Art for display in their Asian Art collection.

View Kamada Kōji's Profile | View all works by this artist.
Shipping Fees

| | in | cm | lbs | g |
| --- | --- | --- | --- | --- |
| diameter | 3.6" | 9.2 | | |
| height | 1.6" | 4.1 | | |
| weight | | | 0.66 | 300 |