Seiji Kōsai Tea Ceremony Bowl by Kamada Kōji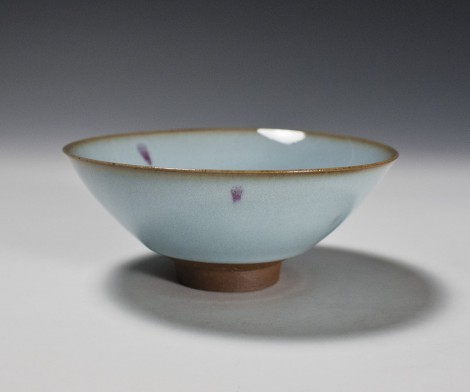 Description
Known as the "fair maiden" of Chinese ceramics, celadon, like tenmoku, was born in the Song Dynasty (960-1270). Both techniques rely upon iron oxide to define their character, and both are equally renowned for the difficulty in their mastery. So it seems only natural that ceramic artist Kamada Kōji would heed the call of the maiden and focus his talents on tenmoku's fairer cousin. Her simple elegance, though, hides the enormity of the challenge behind her.

Celadon (called seiji in Japanese) forms only under the most precise kiln conditions and is considered by many to be the most difficult glazing technique to master. Its powdery blue forms during reduction firing when oxygen is slowly leeched from the iron content in the glaze - a narrow window through which few pots are able to pass unscathed.

Mr. Kamada hits the mark with this luminous gappaku celadon tea ceremony bowl. It was born from the kiln imbued with a soothing "moon white", or geppaku in Japanese, and is accented with magenta markings called kōsai - a respectful nod to the ancient wares from the Middle Kingdom.

This natsu-jawan (summer tea bowl) has a wide brim which allows whipped matcha green tea to cool more rapidly in the hotter months. Formed to precision and perfectly balanced, it makes a worthy addition to any celadon collection.

Kamada Kōji's tenmoku works are held in private collections around the world and, in 2005, were acquired by New York's Metropolitan Museum of Art for display in their Asian Art collection.



A wooden presentation box will be custom made to order and signed by the artist. Delivery time for this item is 2 weeks.

A fukusa display cloth is included.

View Kamada Kōji's Profile | View all works by this artist.
Shipping Fees

| | in | cm | lbs | g |
| --- | --- | --- | --- | --- |
| diameter | 5.7" | 14.5 | | |
| height | 2.4" | 6.0 | | |
| weight | | | 1.32 | 600 |