Haku-kin Shino Vase by Suzuki Tomio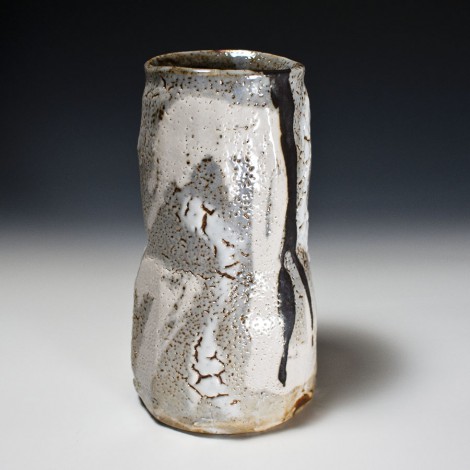 Description
The evolution of glazing is not unlike the evolution of species. New lineages are sometimes born in the kiln when some mysterious confluence of events, some call them kiln Gods, grants a pot attractive features that assure its perpetuation in successive firings. And true to the forces of evolution, a new glaze makes its début.

Haku-kin (lit "white gold") is the newest addition to Suzuki Tomio's expanding repertoire of shino glazes. Through slight refinements to nezumi shino and its reduction time in the kiln, the artist has succeeded in adding a glistening finish to the light, mousy grey tones which define this well established glazing genre.

This striking vase is done in Suzuki's signature haku-kin shino. A textured landscape of crackles and fissures reveals the iron-rich underglaze which gives the glaze its lustrous finish, and the entire piece is energized with bold brushwork and branches of iron - figurative veins of precious metal from which the glaze's name derives.

Suzuki Tomio's shino pottery is held in private collections around the world and, in 2011, was acquired by the Philadelphia Museum of Art for display in their East Asian Art collection.



A wooden presentation box will be custom made to order and signed by the artist. Delivery time for this item is 2 weeks.

View Suzuki Tomio's Profile | View all works by this artist.
Shipping Fees

| | in | cm | lbs | kg |
| --- | --- | --- | --- | --- |
| diameter | 5.7" | 14.5 | | |
| height | 10.2" | 26.0 | | |
| weight | | | 5.51 | 2.5 |