Madara-kin Shino Green Tea Cup by Suzuki Tomio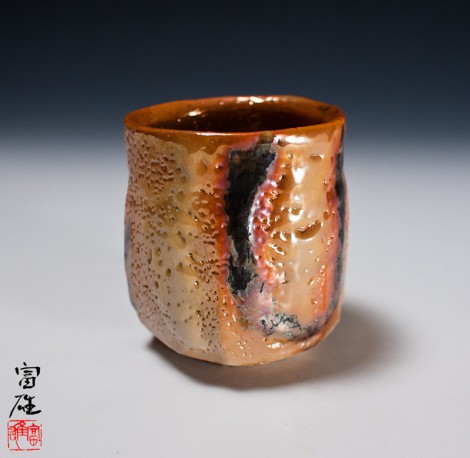 Description
The evolution of glazes is not unlike the evolution of species. New lineages are sometimes born in the kiln when some mysterious confluence of events, some call them kiln Gods, grants a pot attractive features that assure its perpetuation in successive firings. Thus was the creation of Suzuki Tomio's signature yōhen-kin (golden) shino glaze nearly a decade earlier.

Madara-kin shino is the newest extension of Suzuki's yōhen-kin line. It derives its character from an iron saturated slip which is first applied around the entire claybody. The resulting collage of mottled tones, called madara in Japanese, is quite unlike any other in the artist's glazing repertory. Dark riverbeds where the glaze was wiped away scar a Martian landscape of blended crimson hues and lustrous, crackled feldspar.

The next phase of Suzuki Tomio's shino art is proudly represented here in this striking madara-kin green tea cup. It is sure to become a green tea drinker's cherished vessel.

For hot or cold green tea or iced tea.

Suzuki Tomio's shino pottery is held in private collections around the world and, in 2011, was acquired by the Philadelphia Museum of Art for display in their East Asian Art collection.

View Suzuki Tomio's Profile | View all works by this artist.
Shipping Fees

| | in | cm | lbs | g |
| --- | --- | --- | --- | --- |
| diameter | 3.4" | 8.7 | | |
| height | 3.7" | 9.3 | | |
| weight | | | 1.10 | 500 |