Yōhen Aka Shino Tsubo Jar by Suzuki Tomio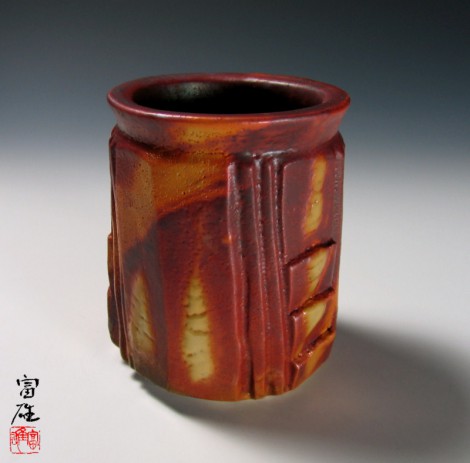 Description
To further enhance shino's textural appeal, Suzuki Tomio approaches every unglazed pot as a landscape architect would an undeveloped plot of earth. It first requires slow, thoughtful sculpting before anything is lain upon it. As a result, his clay creations are renowned for their terraced surfaces, ridges, and winding vistas.

Suzuki displays his masterful forming skill in this striking cylindrical vase. It is done in his lustrous yōhen aka (golden red) shino glaze and accented with crackled feldspar and fluid brushwork. It exudes a warmth and sense of presence that is hard to go unnoticed.

The vase is sturdy enough to accommodate ikébana arrangements with angled branches and short stemmed flowers. It commands equal attention, though, all on its own and makes the ideal accessory for any Japanese-influenced interior or modern décor.

Suzuki Tomio's shino pottery is held in private collections around the world and, in 2011, was acquired by the Philadelphia Museum of Art for display in their East Asian Art collection.



A wooden presentation box will be custom made to order and signed by the artist. Delivery time for this item is 2 weeks.

View Suzuki Tomio's Profile | View all works by this artist.
Shipping Fees

| | in | cm | lbs | kg |
| --- | --- | --- | --- | --- |
| diameter | 5.3" | 13.5 | | |
| height | 6.1" | 15.6 | | |
| weight | | | 3.31 | 1.5 |