Kagayō Shino Kofuku Tea Bowl by Suzuki Tomio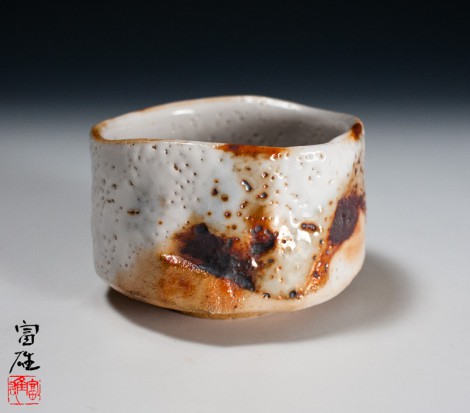 Description
Kagayō shino is one of the more recent additions to Suzuki Tomio's expansive glazing repertoire. It was born from a single creative impulse - to bring together a number of elements from different shino techniques and present them all in a multi-layered collage on clay. After months of trial and error, Suzuki has created a new signature glaze that beautifully melds the citrus peel texture of classical shino, hints of aka shino's rust reds, and the shimmering quality of his yōhen-kin (golden) shino glaze.

The results of Suzuki Tomio's efforts are proudly on display here in this splendid kagayō shino kofuku tea bowl - a piece that is sure to become a matcha drinker's closely guarded treasure.

Kofuku tea bowls are made especially for outdoor tea parties. Their smaller size makes them easier to tote around, usually in a nodate basket containing all the necessary tea utensils. Considered to be more daily ware, kofuku bowls lack the strict formality associated with bowls for chanoyu tea ceremony.

Suzuki Tomio's shino pottery is held in private collections around the world and, in 2011, was acquired by the Philadelphia Museum of Art for display in their East Asian Art collection.

View Suzuki Tomio's Profile | View all works by this artist.
Shipping Fees

| | in | cm | lbs | g |
| --- | --- | --- | --- | --- |
| diameter | 4.4" | 11.2 | | |
| height | 2.9" | 7.3 | | |
| weight | | | 1.54 | 700 |