Nezumi Shino Tea Ceremony Bowl by Suzuki Tomio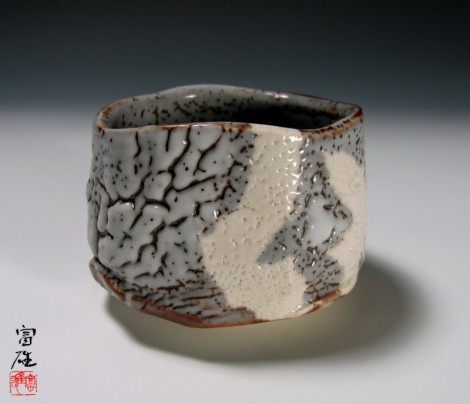 Description
Greatly esteemed by tea ceremony practitioners for centuries, shino-yaki was first fired during the Momoyama era (1568-1603) at kilns in Minō - central Japan. Glazed with a simple mixture of mostly feldspar and water, shino is renowned for its textured surface of pinholes and crackles that forms while cooling in the kiln. As a coloring agent, potters add a rare iron-rich sediment, called onita, which is found in certain riverbeds around the region.

This striking tea ceremony bowl by Suzuki Tomio is done in nezumi (literally "mouse") shino, as denoted by its mostly soft gray color. Hints of orange from the onita-rich underglaze peer through the holes in its citrus skin surface, while the face of the bowl is bejeweled with heavy applications of feldspar, a Suzuki trademark, and Zen-inspired brushwork.

The bowl is formed entirely on a handwheel with overlapping coils of mogusa clay which lead up to an undulating "mountain path" rim, and the weight of the piece rests squarely upon a roughly formed footring. When filled with the verdant color of whipped matcha green tea, it gains its full character and is truly a sight to behold.

Suzuki Tomio's shino pottery is held in private collections around the world and, in 2011, was acquired by the Philadelphia Museum of Art for display in their East Asian Art collection.



A wooden presentation box will be custom made to order and signed by the artist. Delivery time for this item is 2 weeks.

A fukusa display cloth is included.

View Suzuki Tomio's Profile | View all works by this artist.
Shipping Fees

| | in | cm | lbs | g |
| --- | --- | --- | --- | --- |
| diameter | 5.3" | 13.5 | | |
| height | 3.7" | 9.5 | | |
| weight | | | 1.76 | 800 |