Tetsubin Saké Set by Nagai Ken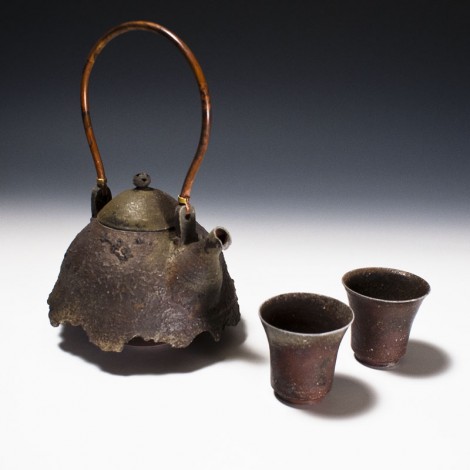 Description
Nagai Ken's clay creations are a skillful melding of two artistic genres: cast iron wares and wood-fired pottery.

This distinctive saké decanter resembles a miniature tetsubin - the kind of iron kettles used to boil water for green tea. Meticulously handcrafted in minute detail (the knob on the lid swivels), it is a testament to the artists exceptional forming skill.

The intense heat inside Tenkū-gama, Nagai's noborigama climbing kiln, produces warm gradations of rust red to dark brown and small pebbles where feldspar crystals burst through. Swirling embers of red pine fuse with the surface of the clay and produce a natural glaze which is rough yet pleasing to the touch. It is a wonderful display of the kind of dynamic kiln effects that only wood-fired pottery can exhibit.

The copper handled decanter is accompanied by two matching cups fired in the same technique. Its total capacity is 450 ml (15 oz.), which is enough to fill several cups.

View Nagai Ken's Profile | View all works by this artist.
Shipping Fees

| | in | cm | lbs | kg |
| --- | --- | --- | --- | --- |
| pot | | | | |
| diameter | 5.9" | 15.0 | | |
| height | 4.6" | 11.7 | | |
| cups | | | | |
| diameter | 3.4" | 8.6 | | |
| height | 2.2" | 5.7 | | |
| set weight | | | 2.2 | 1.0 |