Dai Green Tea Set by Nagai Ken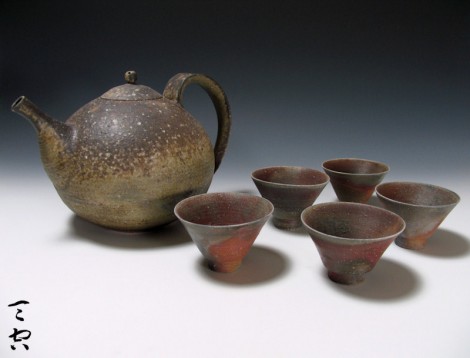 Description
Tamba-yaki is a style of high-fired, unglazed pottery originating more than 800 years ago in a remote and mountainous region west of Kyoto in Hyogo prefecture. During the Edo era (1600-1868), Tamba tea bowls were used extensively by tea ceremony practitioners who appreciated their simple, austere beauty. Because Tamba-yaki is unadorned and free of decorative elements, its beauty derives solely from the character of the clay, also known as its "flavor", and how kiln dynamics are rendered upon it.

This large (dai), rotund green tea pot was fired three consecutive times at Tenkū-gama - Nagai Ken's noborigama climbing kiln. At 1,250°C (2,300°F) degrees, it was blasted with wave after wave of red pine embers, each one adding another layer of color and texture - like painters in a collaborative work. What finally arose from the ashes is a true masterpiece of pottery, blessed with the kind of incidental details which cannot be reproduced: ocher speckles, subtle heat change gradations and rivulets of chocolate brown.

The set includes five matching cups single-fired in the same technique. The interior of the pot has a built-in sieve porous enough to allow small bits of green tea leaf to flow through - a timeless custom among tea drinkers in Japan. Its total serving capacity is 1,800 ml (60 oz), which is enough to fill each cup several times.

Functional as well as beautiful, the set is ideal for tea parties and promises to attract quite a lot of attention from envious guests.

View Nagai Ken's Profile | View all works by this artist.
Shipping Fees

| | in | cm | lbs | kg |
| --- | --- | --- | --- | --- |
| pot | | | | |
| diameter | 7.9" | 20.0 | | |
| height | 7.8" | 19.5 | | |
| cups | | | | |
| diameter | 3.9" | 10.0 | | |
| height | 2.6" | 6.5 | | |
| set weight | | | 6.61 | 3.0 |