Kuro Raku Tea Ceremony Bowl by Sawada Hiroyuki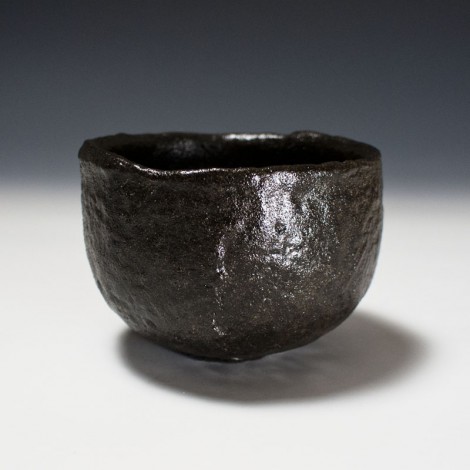 Description
Raku (raku-yaki) is a low-fired ceramic ware first produced by Sasaki Chōjirō (d. 1592) in the 16th century in Kyoto. Under the encouragement and patronage of his close friend, tea master Sen no Rikyū, he crafted a style of bowl which was devoid of any decoration or sense of movement. They were made to embody Rikyū's wabi-cha philosophy - that is, tea ceremony in which great emphasis is placed on simplicity, austerity and quiet appreciation.

Although the appellation "Raku" is reserved for those works made by Chōjirō and his successors, the term is used by a number of contemporary Japanese potters who adhere to the same forming, glazing and firing techniques. Sawada Hiroyuki is one who stands out among them. An artist with over 35 years of experience in crafting ceramic wares for tea ceremony, Sawada specializes in raku-yaki and strives to create bowls with the same sense of presence as those made by the early Raku masters.

This striking kuro (black) raku chawan is formed entirely by hand from a single ball of clay which is kneaded into shape in one sitting. As a result, the moist clay retains the marks of the potter's hands as it dries, thus allowing the piece to communicate with its holder on a more intimate and primitive level. Variations in texture grant it a tactile character similar to stone weathered by time.

Raku bowls present tea like no other vessel. When filled with the verdant color of whipped matcha, the contrasting colors strike a harmonious balance, transforming the bowl into a contemplative piece reminiscent of a quiet Zen garden.



Raku bowls are intended solely for the preparation of matcha green tea. See our using raku safely page for more information.

A wooden presentation box will be custom made to order and signed by the artist. Delivery time for this item is 2 weeks.

A fukusa display cloth is included.

View Sawada Hiroyuki's Profile | View all works by this artist.
Shipping Fees

| | in | cm | lbs | g |
| --- | --- | --- | --- | --- |
| diameter | 5.2" | 13.2 | | |
| height | 3.7" | 9.5 | | |
| weight | | | 1.76 | 800 |