Iga Tsubo Jar by Sawada Hiroyuki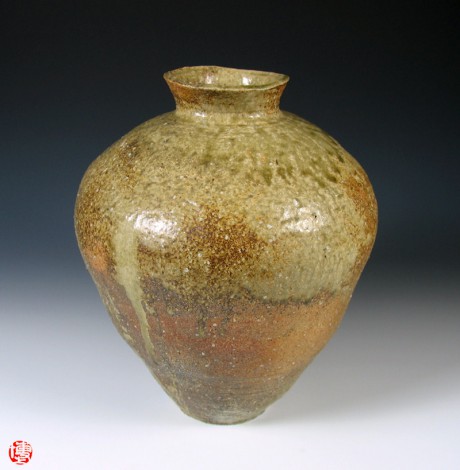 Description
For over 35 years, Sawada Hiroyuki has specialized in the production of ceramic ware made especially for tea ceremony. An avid practitioner himself, he finds particular inspiration in works from the 16th century - a time when tea ceremony, or chanoyu, was reaching the apex of its development. As a result, his own clay creations are deeply grounded in the long history of Japan's tea culture.

Iga ware (Iga-yaki) is one member within Sawada's ceramic making repertoire. First fired at kilns in Mie Prefecture (central Japan) in the late 7th century, Iga later became popular among the busho-chajin, or warrior tea men, who found its rustic tenor complimentary with the aesthetics of chanoyu.

Iga-yaki goes through a rigorous transformation inside the kiln. Fired at 1350°C (2460°F), pots become peppered when superheated grains of feldspar in the clay burst through their earthen bed. Heat change gradations and other yōhen (kiln changes) markings are the incidental effects which give Iga its individual character, ensuring that no two pieces are ever the same.

Although Iga is traditionally fired in large, wood-burning kilns, Sawada has developed a technique which takes advantage of his close proximity to Kurokawa charcoal. By packing a smaller kiln with the dense, obsidian-like wood, a thick cloud of embers swirls around inside the kiln, enveloping pots with a natural glaze of vitrified ash called bīdoro - from the Portuguese word for glass. As a result, his Iga pots are a fluid collage of amber falls, emerald pastures and scorched earth.

Sawada Hiroyuki proudly displays his rendition of Iga in this stately tsubo jar. It is tall enough to accommodate large arrangements with branches and long stemmed flowers. As an interior piece, however, it makes an impression all on its own.



A wooden presentation box will be custom made to order and signed by the artist. Delivery time for this item is 2 weeks.

View Sawada Hiroyuki's Profile | View all works by this artist.
Shipping Fees

| | in | cm | lbs | kg |
| --- | --- | --- | --- | --- |
| diameter | 11.5" | 29.2 | | |
| height | 13.9" | 35.4 | | |
| weight | | | 9.92 | 4.5 |