Shinshayū Tea Ceremony Bowl by Tamaya Kōsei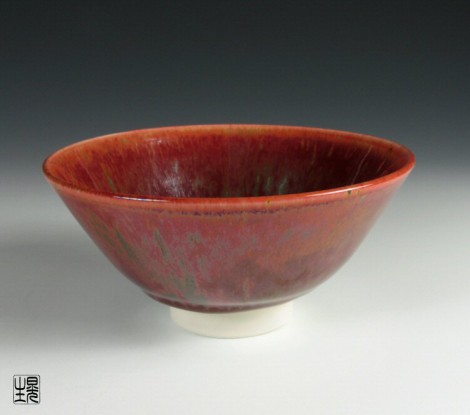 Description
In the 14th century, shogun Ashikaga Yoshimitsu promoted the growth of tea around Kyoto's Uji district, and this began a long and deep tea culture that is still thriving today. Local artisans, well attuned to the aesthetics of tea, produce utensils of the highest quality, including tea bowls, whisks, and cast iron wares. As well, "Uji tea" has become the appellation for superior matcha - the powdered type used for tea ceremony.

Hailing from this region so steeped in tea is ceramic artist Tamaya Kōsei. Since establishing his kiln in 1998, he has devoted himself to the production of pottery and porcelain tea wares and works almost exclusively in copper-based glazes. The reason for this is simple: few elements can produce the kind of vibrant reds that copper can. And since red and green are complimentary colors, copper-glazed chawan (tea bowls), in the artist's view, strike the most sublime harmony with the verdant color of whipped matcha.

This tea ceremony bowl by Tamaya Kōsei is done in a lustrous glaze called shinsha-yū, or "cinnabar glaze". Imbued with the colors of fall, it is as vibrant as the maple leaves which cover Japan's mountainsides in autumn. Precisely formed from a blend of porcelain and clay, called hanjiki in Japanese, the bowl resonates beautifully when tapped on the rim. When filled with matcha, it gains its full character and is truly a sight to behold.



A wooden presentation box will be custom made to order and signed by the artist. Delivery time for this item is 2 weeks.

A fukusa display cloth is included.

View Tamaya Kōsei's Profile | View all works by this artist.
Shipping Fees

| | in | cm | lbs | g |
| --- | --- | --- | --- | --- |
| diameter | 5.7" | 14.6 | | |
| height | 3.1" | 8.0 | | |
| weight | | | 1.32 | 600 |