Sansui Tetsu-é Rice Bowl Set by Murata Tetsu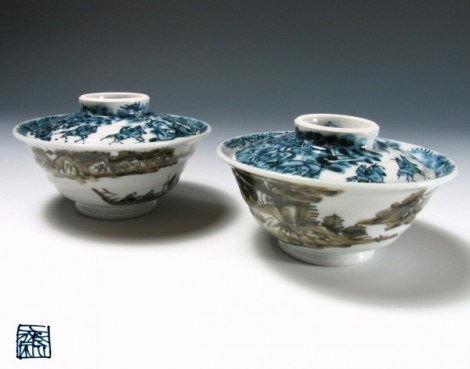 Description
Suibokuga is a genre of ink painting established in Japan during the 13th and 14th centuries. Early works were strongly influenced by Song dynasty paintings brought back by Zen monks returning from their studies in China, and common themes included landscapes and pastoral scenes set aside Chinese poems.

With monochrome charcoal ink being the primary medium used in suibokuga, nuance is expressed through variations in pressure on the brush and contrasted shadings of ink.

Before entering the world of ceramic making, Murata Tetsu learned the secrets of the brush through years of training under his father Konosuke I - a highly accomplished suibokuga artist. Today, Murata Tetsu employs the same techniques to create his own distinctive style of sometsuké (cobalt glazed) porcelain wares.

This elegant rice bowl set for two is a proud display of Murata's masterful brushwork. The lid and interior hold sweeping panoramas of mountainsides and seascapes (themes called sansui) with stills of pastoral life from ancient times. The scene is repeated on the outside in iron overglaze brushwork (called tetsu-é) which gives the set a unique dichromatic quality.

View Murata Tetsu's Profile | View all works by this artist.
Shipping Fees

| | in | cm | lbs | Kg |
| --- | --- | --- | --- | --- |
| diameter | 5.1" | 13.0 | | |
| height | 3.0" | 7.6 | | |
| weight | | | 2.2 | 1.0 |