Kōsai Yōhen Tea Ceremony Bowl by Tamaya Kōsei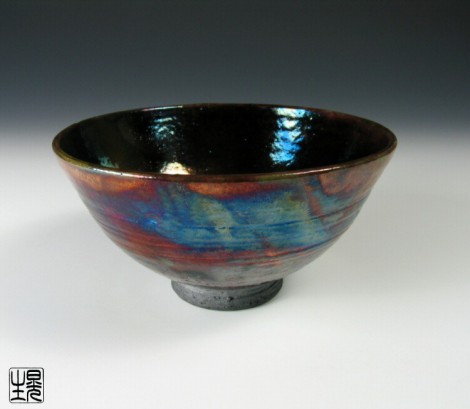 Description
Since 1998, Tamaya Kōsei has focused much his efforts on perfecting a new glaze he calls kōsai yōhen. This copper-based glaze is considered the epitome of his "art of flame" approach to pottery making, and yet it poses the greatest challenge to its creator. Only when all of the elements of glaze, clay and form are in perfect harmony will flame imbue the work with rainbow colors - an exceedingly narrow window in the firing process through which only 1 in 10 pots are able to pass. The unfortunate majority can only be discarded.

The results of Tamaya's efforts are on proud display in this stunning kōsai yōhen tea ceremony bowl. Skillfully formed and perfectly balanced, it holds spectral colors that change according to angle and light - as the artist describes it, "like the wings of a scarab beetle from morning to midday to evening."


A wooden presentation box will be custom made to order and signed by the artist. Delivery time for this item is 2 weeks.

A fukusa display cloth is included.

View Tamaya Kōsei's Profile | View all works by this artist.
Shipping Fees

| | in | cm | lbs | g |
| --- | --- | --- | --- | --- |
| diameter | 5.7" | 14.6 | | |
| height | 3.1" | 8.0 | | |
| weight | | | 1.32 | 600 |